Our mission is to promote and strengthen the bond between a Service Dog and their partner; to place a well-matched Service Dog that will provide companionship, love, and support to their partner; to train a Service Dog that creates a positive and significant improvement in a person's everyday life; to place a well skilled Service Dog that will restore a sense of confidence and independence to their human companion; and to make sure our clients have the training and support they need to continue the skill sets their dog has learned and bond with their new companion.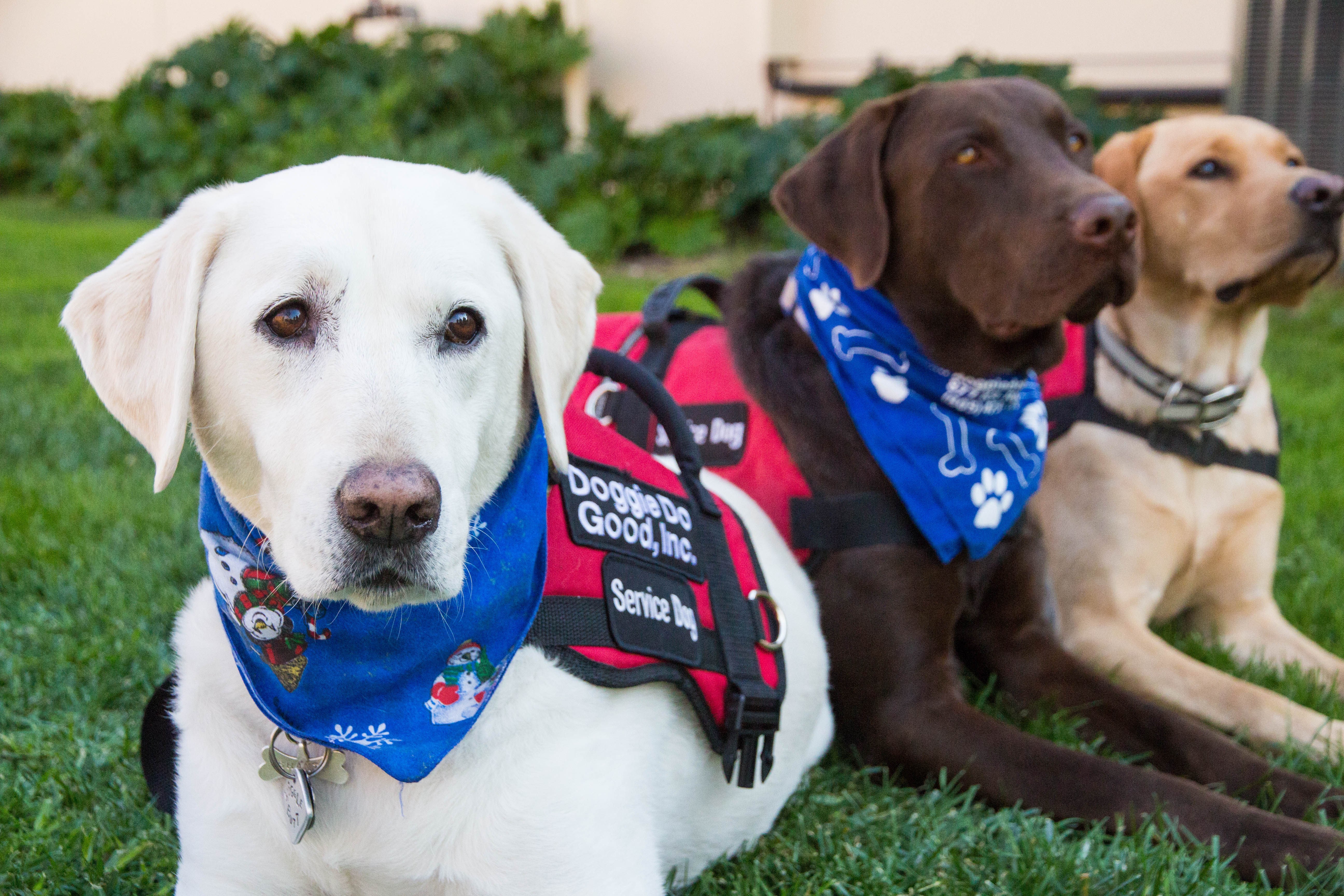 Doggie Does Good, Inc. is a comprehensive Service Dog training facility located on the Central Coast of California. Our facilities are located on two and a half acres where the potential Service Dogs are trained in an "in-home" environment for the specific needs of their future owners. Throughout the training process, our Service Dogs will learn all of their basic obedience skills, public social behaviors, and the specialized Service Dog skills needed per their future owners. These customized skills are regularly worked in public at locations that include: stores, restaurants, beaches, parks, churches, theme parks, cars, buses, and trains. Each Service Dog is custom trained to fit their owner's specific needs or requirements.  Our placement success rates for loyal service companions are remarkably high. We routinely place highly qualified Service Dogs who reliably meet the needs of their new lifetime companions, and vastly improve their quality of life.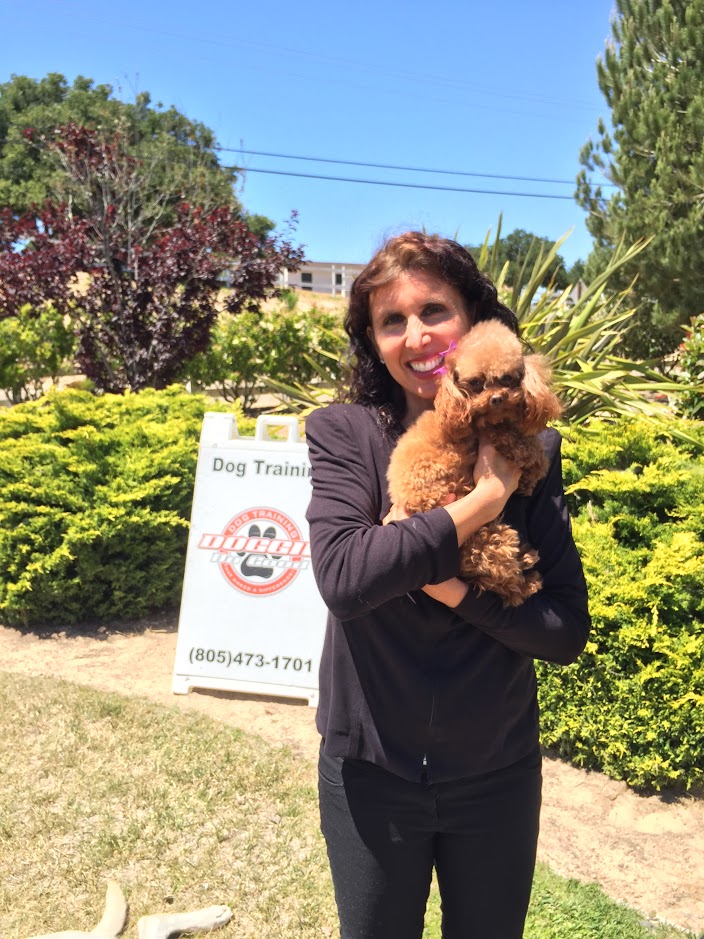 Sandy Sandberg
Founder / Animal Behavior Specialist
Sandy has been working with animals her entire life. Sandy has worked with a wide variety of species of animals over the past thirty years. She has worked with dolphins, penguins, and whales at Sea World; big cats, primates, elephants, and over two hundred different species of animals while employed at the Santa Barbara Zoo. Sandy worked at Michael Jackson's Neverland Valley Ranch as the Head Elephant Supervisor and worked with a variety of canines as a doggie trainer at the Animal Behavior and Training Associates Center located in Los Angeles. Sandy started out volunteering at several animal hospitals, with many breeds of dogs and cats, and again volunteered her services at the San Diego Zoo Primate Pad, Project Wildlife, and at Magic Mountain with dolphins. She started the dog training company Doggie Do Good, Inc. in 1998.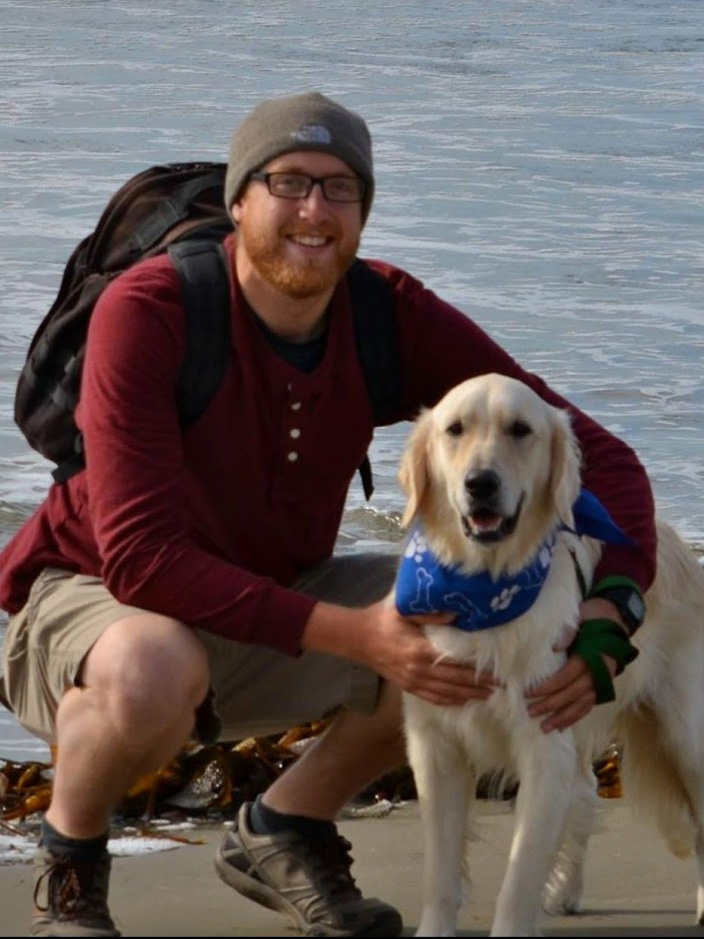 Paul Klawiter
Training Manager
Paul Klawiter has been working for Doggie Does Good, Inc. since 2013. Paul graduated with a degree from Cal State Monterey Bay, and quickly followed his passion for animals. He has loved dog training his entire life and was the expert when it came to training his childhood pets. Paul has worked his way up through the company and is now the Training Manager. As the Training Manager for the company, he enjoys training new staff to be Service Dog trainers. His favorite part of the pairing process is providing knowledge and resources to the newest Service Dog teams to ensure they will be successful in their everyday lives. When he's not training dogs, Paul enjoys hiking with his golden retriever, Dakota. Paul's favorite dog breed is the Belgian Malinois.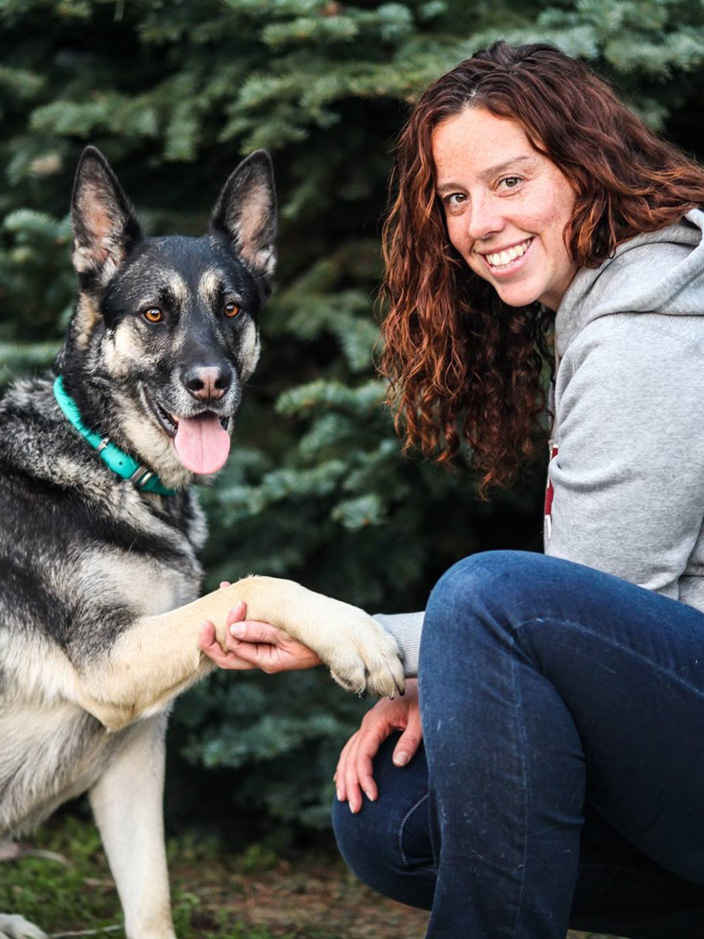 Karyn Reniere
Lead Trainer
Karyn Reniere has been with Doggie Does Good, Inc. since 2015. Karyn entered Doggie Does Good with over 5 years of dog training experience, and serves our team as the Lead Service Dog Trainer. Her patience and understanding with the dogs and team members makes her an essential role to our Service Dog training program. Her favorite part of the training process is the first meeting between Service Dog and companion. During her free time, Karyn enjoys hiking with her German Shepard, Shadow, and playing with her newest service dog puppy in training, golden retriever, Luke. Karyn's favorite dog breed is the golden retriever.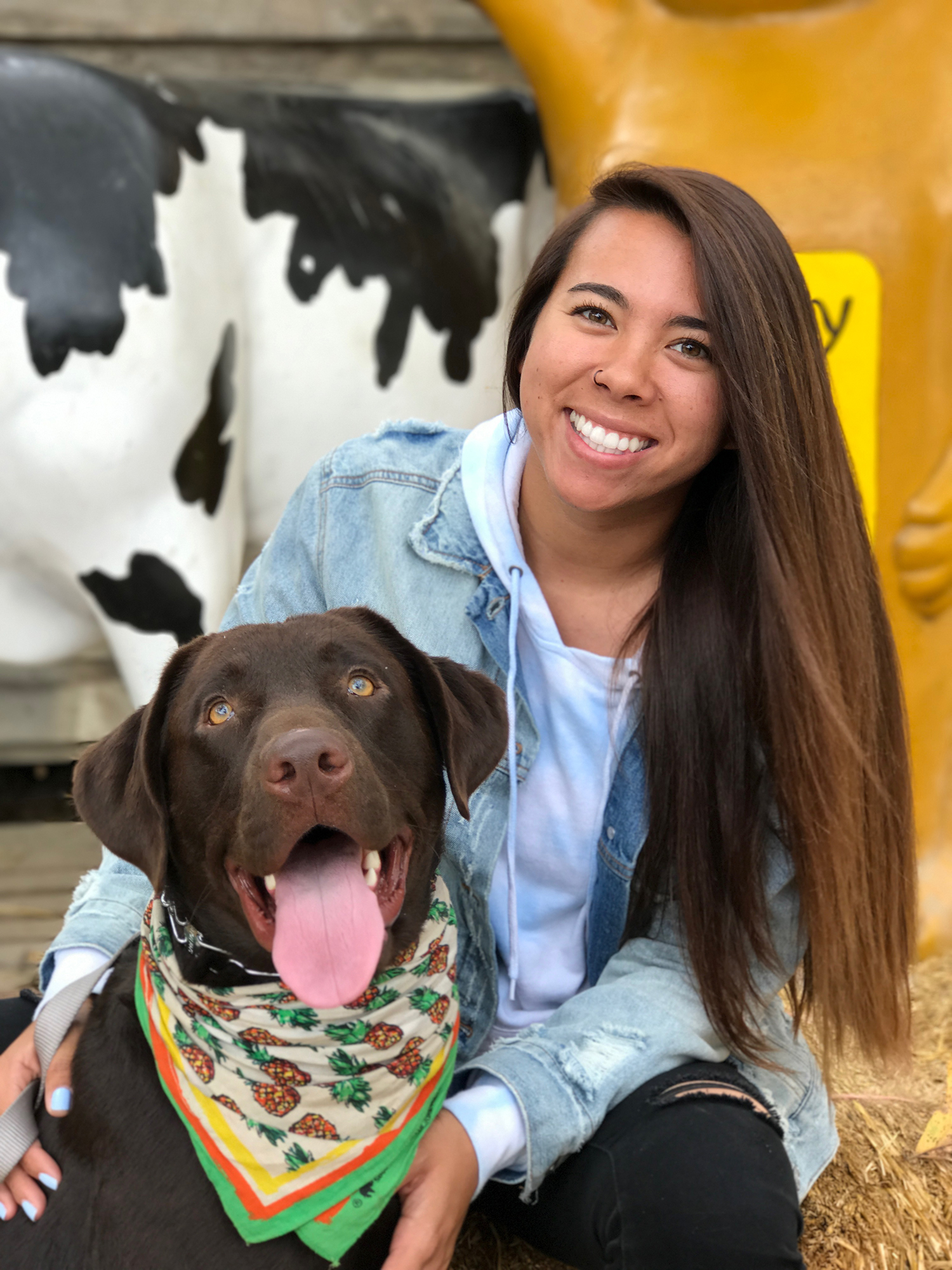 Nece Cabandong
Trainer
Nece Cabandong has been training with Doggie Does Good, Inc. since 2015. Nece's previous four years of dog training experience made her a quick study, and she has become an integral role as a member of our Service Dog Training Team. Nece enjoys teaching the potential Service Dogs new tasks that their forever owner will need. In 2016, Nece welcomed a new addition to her family, a chocolate lab puppy named Jameson. When Nece isn't at work, she enjoys teaching Jameson new tricks! Nece's favorite breed is Bull Mastiff.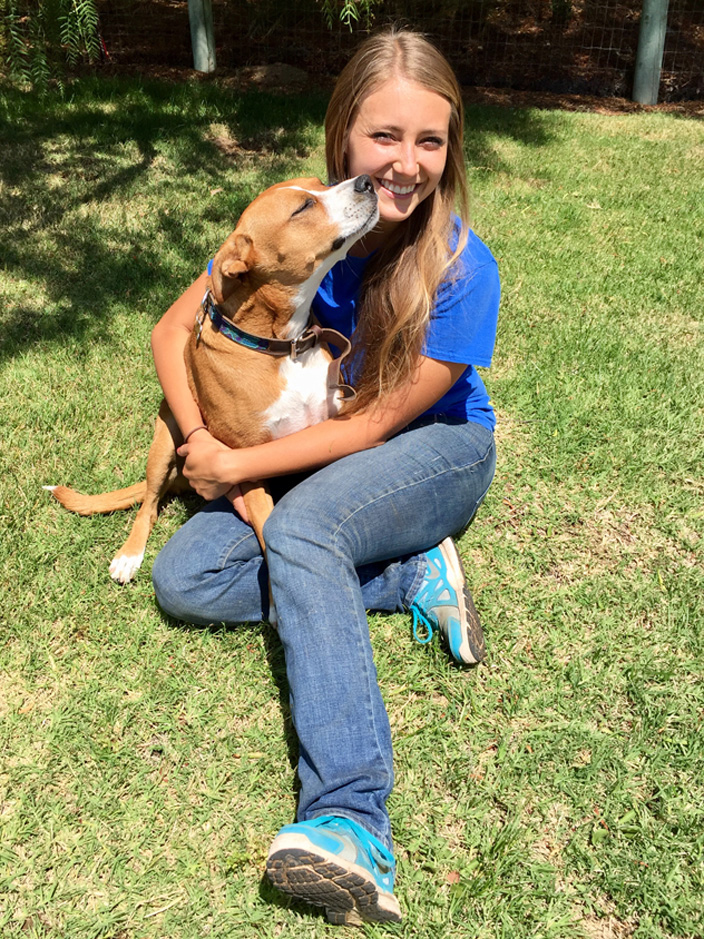 Courtney Rios
Trainer
Courtney Rios has been with Doggie Does Good, Inc. since 2015. She is another member of the Service Dog Training Team. While she is working to complete her degree from college, Courtney continues to volunteer her time beyond her regular training days as a puppy raiser in our Service Dog Puppy Raising Program.  When Courtney isn't at Doggie Does Good, Inc. she enjoys spending time at the beach with her boxer mix, Millie. Courtney's favorite breed is the boxer!
Amanda Estes
ADI Program Manager
Amanda has worked for Doggie Does Good for over 5 years. She has been in the animal industry for 15+ years. She has a degree in animal training. Her favorite aspect of the service dog program is being able to help people and see the positive impact that it makes in people's lives. Her favorite breed is the German Shepherd.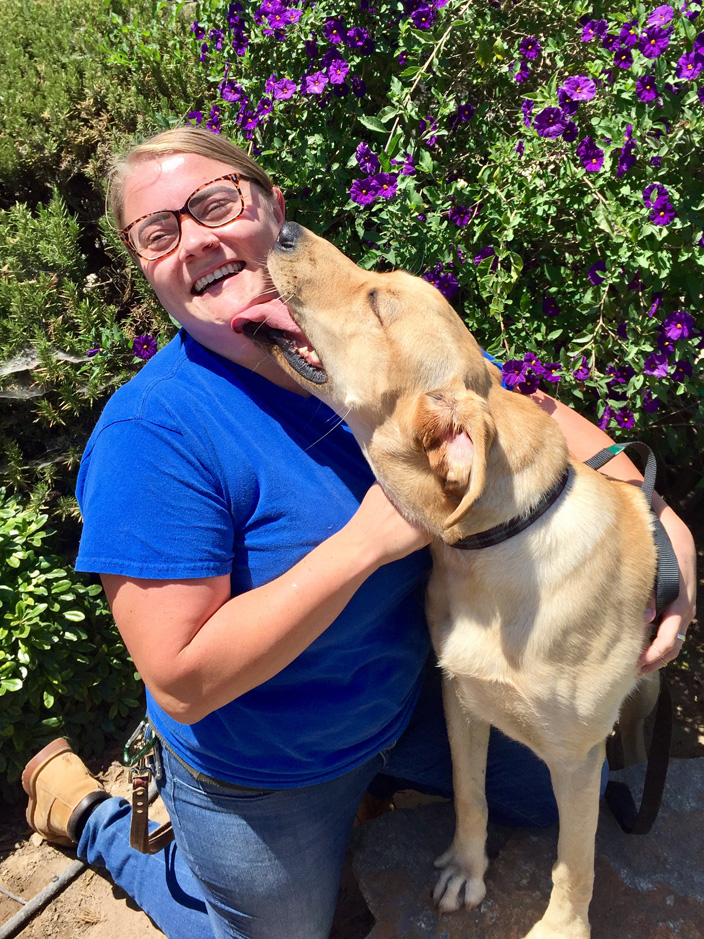 Megan Campolmi
Office Manager
Megan Campolmi has been with Doggie Does Good, Inc. since October of 2013. Megan brings a background of life-long dog ownership, and as the office manager, is another integral part of the team. Megan also participates in the Service Dog Puppy Raising Program. Her favorite part of the Service Dog Program is keeping in touch with matched teams to hear how the Service Dog has bettered their companion's life. When Megan isn't at Doggie Does Good, Inc. she enjoys playing fetch with her newest puppy raising program, a chocolate lab, Benelli.  Megan's favorite breed of dog is Great Dane!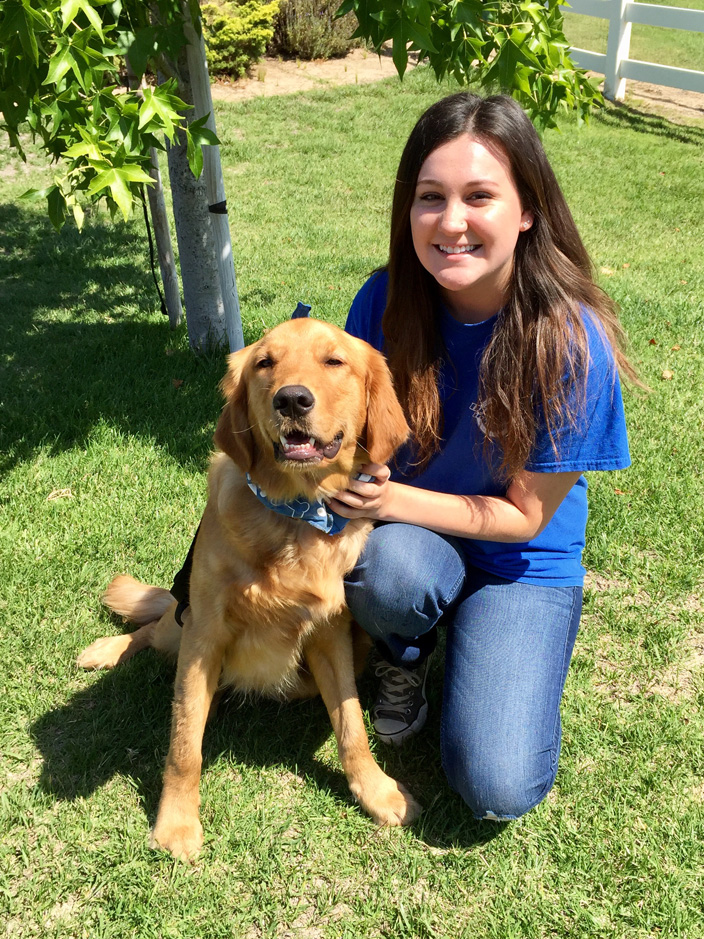 Destiny Aragon
Outreach Consultant
Destiny Aragon is our newest addition to our Service Dog team and joined us in 2016. Destiny is another "team matcher," and is responsible for matching a client with their perfect Service Dog. Destiny is a key member in the functionality of the Service Dog Program, and actively finds our Service Dogs In Training their perfect homes. When Destiny isn't matching teams she enjoys spending time with her little dog, Bubba.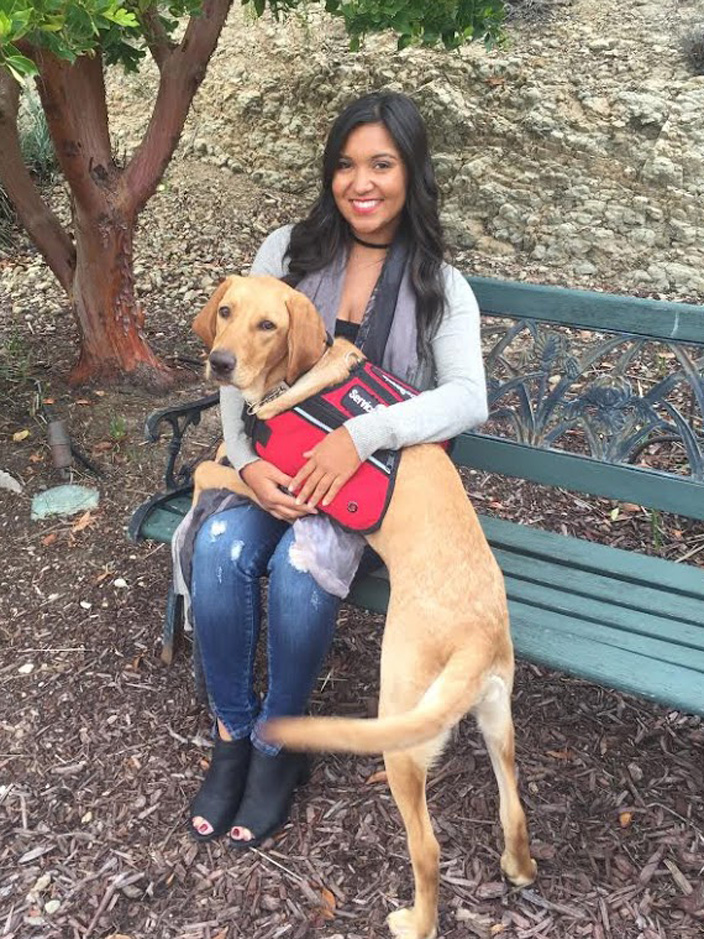 Kristina Shanks
Administrative Staff
Kristina Shanks who celebrated her one year anniversary with Doggie Does Good, Inc. in March plays a versatile role as both basic obedience trainer and administrative assistant. While Kristina is actively pursuing a degree in criminal justice, she continues to be an important member of our dog team. Her favorite part of the service dog training process is being able to help people regain their independence. Although Kristina doesn't currently have a dog of her own, she enjoys being one of our puppy raising volunteers. When Kristina isn't playing with her puppy, she enjoys riding her horse, Gunnar.
Veronica Gutierrez: Basic obedience dog trainer
Isaac Rios: Apprentice dog trainer
Tess Molinari: Basic obedience dog trainer
Faustina Cruz: Cleaning & Feeding Manager
Sarah Segovia: Kennel Staff